Gun Barrel City Roofing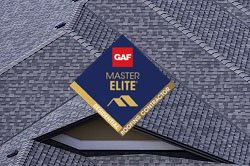 While do-it-yourself home repair tasks have never been more popular than they are now, you should know when it's time to hand over your equipment and call a professional Gun Barrel City roofing company. King Roofing & Solar wants to make your roof look its best, but we can't do so until you tell us when you need our assistance. Learn when it's time to call in the professionals for the benefit of your house, family, and budget.
Catch Problems Before They Get Out of Control!
You should visually examine your roof numerous times a year, but we can climb up on your roof and do it for you. Please notify us as soon as you discover any staining, stains, buckling, curling, or missing tiles or shingles. Even if you never walk on your roof, if you detect water stains in your attic or moss or mildew along your roof, you may have an issue with the material.
Why is it Important to Maintain Your Roof?
Routine maintenance is a vital aspect of effectively maintaining your roof and avoiding future problems. No matter how simple the maintenance activity appears to be, it is advisable to delegate it to a professional who has the appropriate skills and understanding. Because your roof is one of your home's strongest and most critical lines of defense, it's only logical to go to great lengths to safeguard it.
When Should You Call a Professional Gun Barrel City Roofing Contractor?
All roofs will inevitably need to be replaced. However, knowing when the time is appropriate is critical since you don't want to squander money on a huge project that may be delayed. Here are some things to think about:
Minor repairs are far less costly than full-fledged replacements. If the majority of your roof is in good condition, it makes sense to repair the problem areas and save money.
In the event of storm damage such as wind and hail, check with your homeowner's insurance to determine whether repairs are covered. Minor repairs, such as shingle replacement, may be accomplished at a reasonable price.
Do You Need Storm Damage Roof Repair in Gun Barrel City, TX?
We have a lot of storms in East Texas. We will come out to your property to conduct a complete evaluation of the extent of any storm damage. We would gladly cooperate with your insurance carrier to file storm damage claims.
Before You Move, Replace Your Old Roof!
If you want to sell your home in the future, replacing your present worn-out roof might potentially boost its total value and curb appeal. You may sell your property for more money than you think if you put money into repairs upfront. Even if you don't intend to move very soon, a new roof will undoubtedly improve the appeal of your home's exterior.
When Should You Replace Your Roof?
Some roofs may have only one side that is damaged. In such a circumstance, it would make sense to merely partially re-roof, which might save you thousands of dollars. Here are a few things to think about if you believe your new roof has to be totally replaced:
The age and quality of the existing shingles or underlayment.
Weather conditions.
Vulnerable to damage in the near future.
If you are concerned about any of these issues, you should think about re-roofing with a stronger, more lasting roof.
The Benefits of a GAF Master Elite Roofer in Gun Barrel City, Texas
When you contact a
GAF Master Elite Certified
residential roofer, you will have access to the greatest lifetime limited warranties in North America. Only 2% of roofers are GAF Master Elite roofing contractors, which means we have attained a professional level of excellence and are up to speed on the latest roofing innovations.
A Roofing Company in Gun Barrel City That is Above the Rest
King Roofing & Solar is a local, family-owned roofing company that delivers excellent roofing solutions for residential and commercial properties in Northeast Texas. When you work with us, you get a five-year craftsmanship warranty and the finest lifetime limited warranties available for your new roof through our certifications with leading shingle companies. We are excited to collaborate with you on your next Gun Barrel City roofing job, call us today at
(903) 880-1113
for more information!